From Early Days to Golden Years
On a visit to the National Aviary, you can see birds as huge as Andean Condors boasting 10-foot wingspans then watch tiny birds like Saipan White-eyes and Atlantic Canaries flit by. As you can imagine, caring for a condor is much different from caring for a canary! At the National Aviary, our experts are versed in innovative techniques to provide outstanding care for any bird, for any species, from the egg well into their golden years.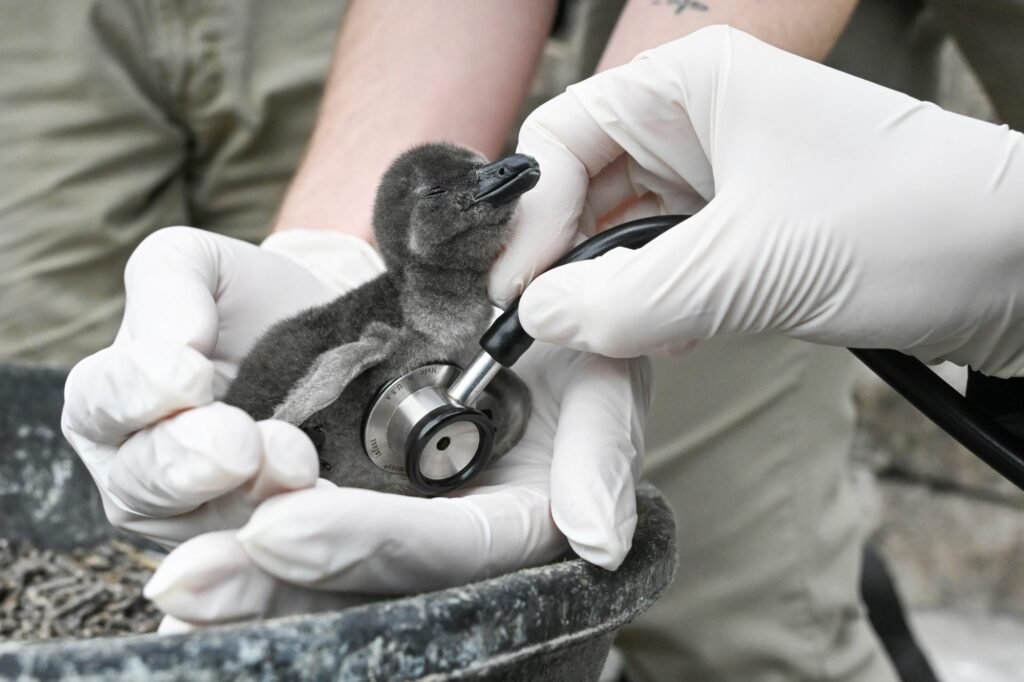 Pierogi the African Penguin is just starting out life in the colony at Penguin Point. He hatched in September 2022 and was in a cozy behind-the-scenes habitat where his parents helped him grow into a confident young penguin. His caregivers affectionately named him Pierogi because he was—and still is—as cute as a dumpling. They recorded his weight each week not only in grams, but also in cheddar and potato pierogis (a Pittsburgh staple). Pierogi was melting hearts from the get-go!
During a routine checkup when he was just a few days old, Pierogi's care team discovered an abrasion on his left eye. Baby penguins are very delicate and can get abrasions as they hatch or while in the nest with parents. The team monitored him closely and observed that the abrasion prevented Pierogi's eye from closing fully. To help chart the best course for Pierogi's care, our team brought in a human eye specialist who treats patients with low vision. The optometrist and our veterinary team performed a full eye exam, modifying the techniques and tools used on humans for the unique features of a penguin patient.
Birds are so different from other animals, and the experts at the National Aviary research thoroughly and get creative to meet each bird's needs. Our community's generosity and your donations help make this kind of uncommon care possible.
The news from Pierogi's exam was encouraging: his right eye has perfect vision, and he can see shadows with his left eye. His eye may look a little different, but his condition doesn't slow him down and he is adapting exceptionally well! Within minutes of entering Penguin Point, little Pierogi was splashing and playing in the water. He's active, curious, and social—everything a young penguin ought to be. He will receive regular checkups to ensure his eye remains clean and healthy, and our experts can provide him with treatments when needed.
In a habitat behind the scenes, the National Aviary's most senior African Penguin, Stanley (named for the Stanley Cup), is receiving care for a pinched nerve in his spine. At 21, Stanley is in his golden years. Like people, birds can experience aches, pains, and pinched nerves as they age, too.
Stanley's condition temporarily left him with limited use of his legs. The veterinary team at the National Aviary rushed to make sure he was comfortable and healing, and to find solutions to get this much-loved penguin back on his feet and into the water again!
Stanley's care team implemented the use of an infant life vest to aid in his physical therapy. Nestled safely in the vest, he can float and splash with the help of one of our veterinarians in a hydrotherapy tub. His physical therapy includes routines for his hips, knees, and feet, plus therapies to build up his core strength.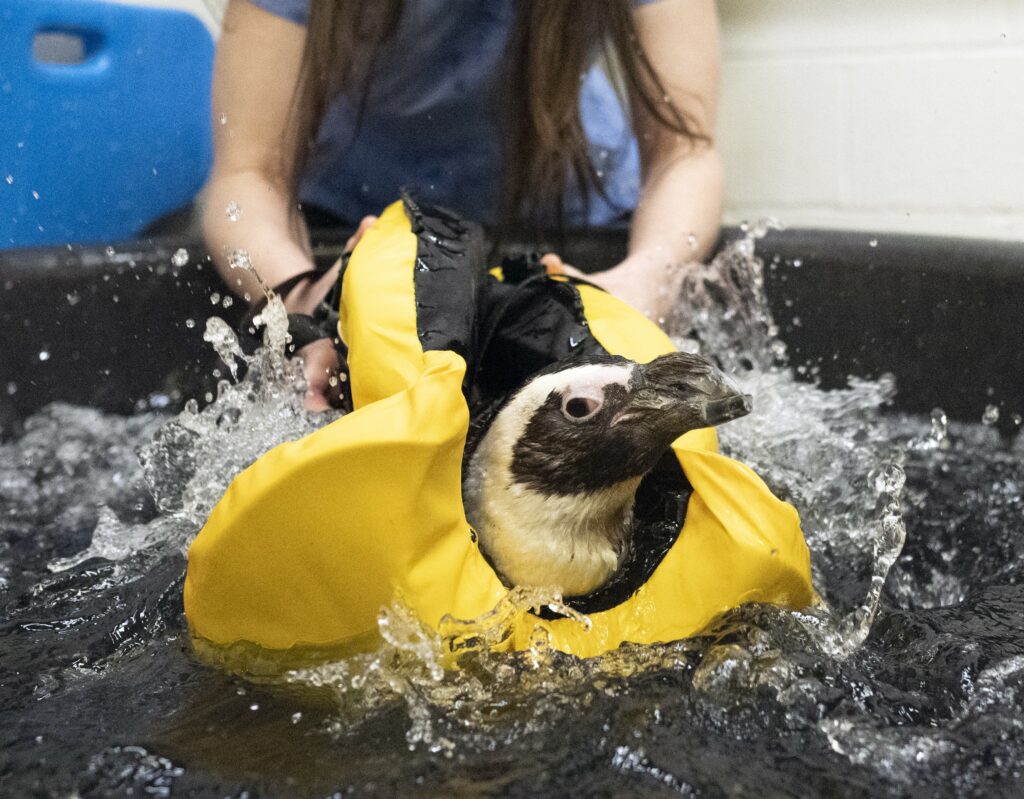 Perhaps most importantly, our team recognized that they were caring not only for Stanley's physical needs, but for his overall wellbeing. As a social species, African Penguins form deep pair bonds with their mates. When Stanley's mate, Dottie, was recovering from a mass in her chest several years ago, Stanley was at Dottie's side to support her as she healed. Now, Dottie returns the favor. Her visits with Stanley in the hospital are vital for his wellbeing – every bit as important as the treatments and therapies he's receiving to heal his body.
Whether it's partnering with optometrists to peek into a penguin's eye, or testing floatation devices to help a senior penguin swim again, the National Aviary's experts tirelessly pursue treatments to help birds thrive and live healthy lives from the moment they hatch through their golden years.
And, caring for these special birds is crucial for their survival: African Penguins may be extinct in the wild in South Africa in just 10 years.
The National Aviary is a leader in the Association of Zoos and Aquariums (AZA) Saving Animals From Extinction (SAFE) program for African Penguins, working with colleagues around the globe to help find solutions to meet the challenges facing African Penguins. And, we are coordinating the Species Survival Plan® for African Penguins, making sure the entire population of African Penguins remains healthy and stable for the long-term future.
This work – from the care we provide each bird at the National Aviary every day, to our efforts to help save species from extinction – is possible because of people like you! Your gift to our spring campaign will support our work to provide uncompromising, innovative care for birds like Pierogi and Stanley and create a brighter future for their wild counterparts.
---