Facility Map & Accessibility
The National Aviary is committed to creating an experience that is inclusive of and accessible to all of our visitors. Our staff are trained to help visitors make the most of their time with us, and are available to assist you with your needs.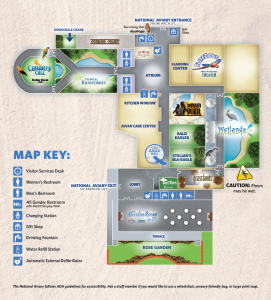 Stroller and Wheelchair Accessibility
The National Aviary's entrances/exits and layout are stroller and wheelchair friendly. Wheelchairs are available for loan free of charge on a first-come, first-served basis.
Accessible Parking
Accessible parking is available on a first-come, first-served basis in our parking lot and near our entrance at Arch Street.
Allergens
Please be aware that the National Aviary is NOT an allergen-free facility, as many of our birds' diets include nuts, seeds, and other potential human allergens.
Restrooms and Nursing Rooms
Accessible restrooms are located in the Atrium. An all-family, gender-neutral restroom with an adult changing table is located in The Garden Room at the rear of the National Aviary. Nursing rooms are available at the National Aviary. Please ask one of our staff members for assistance.
Hearing Accessibility
Signage is available to help visitors identify birds. For immersive bird shows, the National Aviary offers printed scripts at no cost upon request. Ask for one at a Visitor Services Desk upon entry. All scripts are the property of the National Aviary © 2022.
Assistive Listening Devices (ALD's) can be obtained upon entry to the Helen M. Schmidt FliteZone™ Theater upon request. Please let one of our show ushers know you require an ALD and we will supply you with a receiver that offers amplified sound. For large groups of 8 or more requiring Assistive Listening Devices, please call 412-258-9459 at least 36 hours ahead of time, to reserve up to 24 units.
Visual Accessibility
The National Aviary offers high-contrast way-finding and habitat signage, including some Braille. Large print maps are available upon request at the Visitor Services Desk.
Sensory Accessibility
Noise cancelling headphones and sensory backpacks are available for visitors with sensory sensitivities. They may be borrowed at a first-come, first-served basis from our Visitor Services desks. Our Sensory Guide shares what you might experience room by room during your visit. You can also view our Kulture City Story Guide. Join us each month from January to May for Sensory Friendly Mornings! Click here to learn more.
Service Animals
The National Aviary welcomes visitors and their trained service animals. We ask visitors with service animals to observe the following guidelines to ensure the safety of our flock:
Service animals must remain out of the following areas and any areas in which there are no physical barriers between Aviary animals and guests:

Tropical Rainforest
Wetlands
Grasslands
Theater areas, including SkyDeck
Interactive Encounter settings
Canary's Call

Service animals that are not fully trained and within the complete control of their owner/handler are not permitted inside the National Aviary.
Owners will be responsible for all actions of the service animals, including the clean-up of any and all defecation and any damages or injuries caused by their service animal.
The National Aviary reserves the right to enforce additional restrictions or removal of the animal from National Aviary grounds for any reason, at any time.
If a service animal is excluded from National Aviary grounds or a portion of the Aviary grounds, the National Aviary will make reasonable accommodations to permit the guest to continue their visit. These accommodations will not include kenneling the service animal.
For additional information about accessibility, please contact us.