Dr. Pilar Fish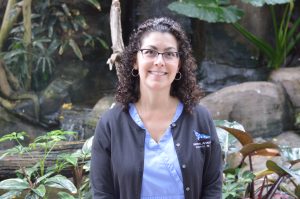 Pilar Fish, Doctor of Veterinary Medicine (DVM), is the National Aviary's Senior Director of Zoological Advancement and Avian Medicine since 2003. Dr. Fish graduated from University of Florida's College of Veterinary Medicine where she continued training in wildlife and zoological medicine by completing five years in internships and residency programs. She has practiced wildlife and zoo medicine since 1994 and has worked throughout Africa and Latin America teaching avian medicine and assisting wildlife rehabilitation centers.
As a leading expert in avian medicine, Dr. Fish has developed new protocols for numerous bird species in preventative medicine, geriatric care, neonatal care, and emergency care. She has established techniques for treating egg-bound birds, beak repairs using dental acrylics, orthopedic surgery, and skin-grafting. She acts as a consultant for zoos, wildlife centers, and veterinarians all over the world with the goal of sharing new advancements in avian medicine to help birds on a large scale.
Dr. Fish launched the National Aviary's Teaching Hospital program to meet a need for veterinary students to obtain specialized training in avian medicine. Today, the Teaching Hospital program trains and mentors over 50 students from around the world each year.