Whoooo Wants to Hold a Mysterious Owl?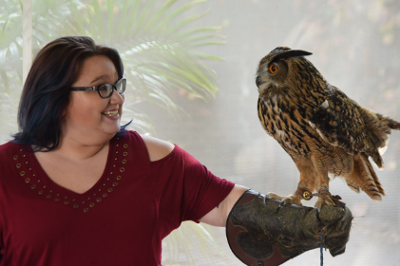 Available to Visitors: $74.00 per person
Member Price: $66.60
Includes General Admission
Ages 6+
Offered Daily at 1:30 pm
Immersive Experience
Learn about the unique adaptations of owls, from their uncanny ability to turn their head almost all the way around, to their exceptional eye sight, and silent flight.
See fascinating biofacts, like an owl beak!
Hold out your gloved hand as and aviculturist helps you hold an owl!
Take photos and ask questions about these extraordinary birds.
Learn how you can help protect owls in your own backyard.
Book Owl Encounter!
We paid for the owl experience for our two kids (ages 15 and 21). The kids came out of the room excited and busily talking about everything they learned. Both agreed the employee was incredibly knowledge and had a well-organized and thoughtful presentation. Also, we loved the immersive exhibits and very much enjoyed sharing the birds' habitat with them.

National Aviary Visitor
Additional Information
6 years and older. Children 15 and under must be accompanied by a paying adult.
At the National Aviary, we give our animals the choice to participate in interactive experiences with caring guests, like you! Please provide your contact information when booking your encounter. If our Animal Ambassador needs a day of rest, we will contact you to reschedule your encounter. The comfort and safety of our animals and our guests is always our top priority. Thank you for understanding!
Email info@aviary.org or call 412-258-9445 for more information or with questions.