A Continent-wide Effort to Track Northern Saw-whet Owls
Since 2013, the National Aviary has operated the first Project Owlnet banding station in western Pennsylvania, one of very few banding stations located near a major urban center. Each spring and fall, National Aviary Ornithologist Bob Mulvihill operates a banding station at Sewickley Heights Borough Park, in partnership with the Borough Park and Fern Hollow Nature Center naturalist April Clause. Volunteer community scientists assist Mulvihill in banding and tracking the movements of Northern Saw-whet Owls.
You can join Bob Mulvihill this fall during a Project Owlnet!
Your group of up to five people will get to help install the research and banding station equipment, record individual owl metrics in a very hands-on manner, then watch the owl fly off and continue its migration. Given the nature of this work, sightings cannot be guaranteed. 
This is a limited opportunity and available dates by are by advance reservation only:
October: 17, 19, 22, 24, 26, 29, & 31
November: 2, 5, 7, 9, 12, 14, 16, 19, 21, 23, 26, 28, & 30
December: 3
Pricing:
$125 per person or $500 for a private experience for up to 5 people.
Registration: Email Greg Kottler at philanthropy@aviary.org or call (412)-258-9465 today to reserve your date or ask any other questions!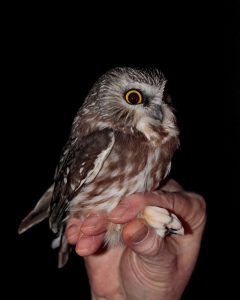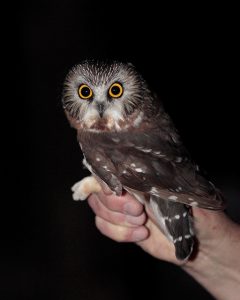 The Northern Saw-whet Owl (Aegolius acadicus) is one of the most common owls found in the forests of southern Canada and the northern United States, but information about this diminutive owl species is sparse. These birds, among the smallest owls in the north, are nocturnal and tend to migrate in irregular patterns, making them difficult to study.
Researchers with Project Owlnet study the movements of the species to understand the timing, pace, and intensity of their migration. Licensed banders delicately catch the birds, which are drawn to a net by a call, band them, and release them. Bands with unique identifying numbers are placed on the owl's legs so that researchers in other areas of the continent can track their movements if and when the owl is re-caught.
Since the start of Project Owlnet in Pittsburgh, Mulvihill and his team of community scientists have learned a great deal about these secretive birds. Learn more about Project Owlnet's findings.
Can't join us for Project Owlnet?