The Garden Room at the National Aviary Achieves LEED Gold Certification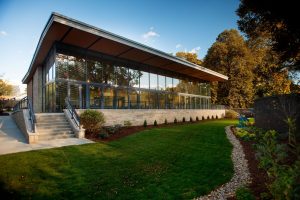 The National Aviary today announces that The Garden Room, an all-seasons event space opened in October 2020, has been awarded LEED Gold certification. Developed by the U.S. Green Building Council (USGBC), LEED (Leadership in Energy and Environmental Design) is an internationally recognized symbol of dedication to sustainable building practices that benefit the environment and human health. LEED's rating system is the most widely used green building rating system in the world.
"Throughout the process of planning and building The Garden Room, the National Aviary and our project team were intentional about keeping sustainability and a strong connection to nature top of mind, and we are thrilled to receive LEED Gold certification," said Cheryl Tracy, Executive Director of the National Aviary. "Our talented project partners at Perfido Weiskopf Wagstaff + Goettel (PWWG) and Jendoco Construction Corporation shared our commitment to sustainability and helped to bring our vision for this truly innovative space to life."
The Garden Room offers the conveniences of a new event space with innovative sustainability features. The project also included a nearly 2,000-square-foot redesign of the lobby connecting to the Aviary's immersive habitats via The Charity Randall Foundation Eagle Hall. The entire space is purposefully designed and versatile, and hosts weddings, corporate events, and education programs.
"Achieving LEED certification is more than just implementing sustainable practices. It represents a commitment to making the world a better place and influencing others to do better," said Mahesh Ramanujam, president and CEO, USGBC. "Given the extraordinary importance of climate protection and the central role buildings play in that effort, the National Aviary is creating a path forward through their LEED certification."
The building uses wood in its construction, with walls and windows on three sides that incorporate about 2,700 square feet of Vitro Architectural Glass with Walker Glass's bird-safe treatment. This glass uses a bird-safe pattern to prevent window strikes by wild birds in the surrounding park, and maximizes energy efficiency. The Garden Room also has a progressive stormwater management system. Light-refracting skylights are not only elegant and eye-catching, but also enhance natural lighting thereby reducing energy use. To promote a high level of indoor air quality, products and materials with low- and no-VOCs (volatile organic compounds) were selected, including paint, adhesives, acoustic wall panels, and advanced filtration.
"The National Aviary presented our team with a holistic vision, and set a very high bar for design, energy performance, and sustainability. Our design had to address LEED requirements and bird safety and conservation, have striking aesthetics, create a visual connection to the outdoors, and optimize well-being for visitors," said Anthony Pitassi, AIA, LEED AP, Project Manager for PWWG Architects. "Because the LEED guidelines dovetail with healthy building design in general, it was deeply gratifying to recognize that these efforts created a facility that not only limits environmental impact, but also makes for a beautiful, bright, versatile, and safe environment for humans and birds."
Certification by the U.S. Green Building Council demonstrates a commitment to ensuring a high level of sustainability in construction and operations. The rigorous LEED certification process evaluates projects on a number of criteria, including energy efficiency, water efficiency, materials selection, and innovation in designs that integrate human and environmental well-being.
"Jendoco engaged in deliberate collaboration with the Aviary team and PWWG Architects to fully understand the vision and aspirational goals for the project. We co-created a concept that aligns these goals and incorporates the unique skills, expertise, and knowledge of each individual on the project team," said Chris Klehm, Vice President of Sustainability for Jendoco Construction Corporation. "The result is the realization of the potential of the project and the award of LEED Gold. Jendoco is proud to have been an integral part of this amazing project."
Lead funding for The Garden Room was provided by the Richard King Mellon Foundation with additional funding provided by The Charity Randall Foundation, Hillman Foundation, Eden Hall Foundation, Allegheny Regional Asset District (RAD), Allegheny Foundation, Allegheny County, Jack Buncher Foundation, The Charles M. Morris Charitable Trust, Robert and Mary Weisbrod Foundation, and original National Aviary Board of Trustees member Michael Flinn and his wife, Eileen Flinn, both long-time supporters of the National Aviary.