Project Principalis Presents New Video Evidence to U.S. Fish and Wildlife Service
Encouraged by the recent announcement by the U.S. Fish and Wildlife Service of an extended comment period on the status of the Ivory-billed Woodpecker (Campephilus principalis), Project Principalis, a partnership of independent researchers and the National Aviary have submitted additional public comments. The comments, which suggest the continuing survival of the iconic birds in Louisiana, include a pre-print paper documenting multiple lines of evidence published earlier this year on the pre-print server bioRxiv, and new video evidence showing what appears to be an Ivory-billed Woodpecker. The submissions are available for the public to access on the United States Fish and Wildlife Service website. The video can be viewed here.
View the full presentation to U.S. Fish and Wildlife Service including supplemental materials and video, and find additional supporting comments here. Read the press release announcing the new findings here.
For media inquiries, please contact Marketing@aviary.org.
Project Principalis: A Search for the Ivory-billed Woodpecker
Aside from the Passenger Pigeon, the Ivory-billed Woodpecker is perhaps the most legendary North American bird. An impressive, large bird with striking features, the elusive Ivory-billed Woodpecker has been the subject of fascination and debate for over a century.
Project Principalis is a search for the Ivory-billed Woodpecker, one of North America's most storied and iconic birds. The project is a collaboration between the National Aviary and the researchers, community scientists, and nature enthusiasts who made up the long-running Ivorybill search known as Project Coyote.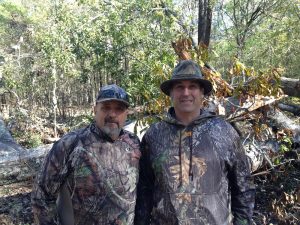 Project Coyote was founded by Mark A. Michaels and the late Frank Wiley, a Louisiana native, to search for evidence of Ivory-billed Woodpeckers in the state, and to follow up on local reports of sightings. Mark first began blogging about the effort 2013, but the search for information and evidence of Ivory-billed Woodpeckers in Louisiana began in 2008.
At the invitation of Matt Courtman, the National Aviary joined Project Coyote and the search effort in 2018, forming the new Project Principalis. During the 2018-2019 field season, Project Principalis embarked on a collaborative effort with the National Aviary and the University of Pittsburgh, focused on gathering acoustic data, collecting environmental DNA samples, and locating roost and nest sites. Researchers are aiming to document Ivory-billed Woodpeckers, document concrete evidence that establishes the species' persistence, and start gathering behavioral data about what they believe is at least one group of surviving birds.
Learn More About Our Work
For media inquiries, please contact the National Aviary's Department of Marketing and Communications at molly.toth@aviary.org.
For general questions and comments about the work of Project Principalis, please contact projectprincipalis@aviary.org.
Support this important project by directing your donation to Project Principalis.
Support Our Work