CyBIRD Virtual Education
CyBIRD Virtual Education is an online learning platform to help families and classrooms around the world learn from the National Aviary's experts and experience birds in a whole new way: through your screen! CyBIRD Virtual Education programs offer opportunities for distance learning for all ages, with multiple options for teachers, parents, and caregivers.
CyBIRD Distance Learning Programs
These 40-minute Distance Learning classes, adapted from our most popular programs, offer schools, scout groups, and families around the country the opportunity to get close to nature—virtually—by seeing exclusive video of National Aviary animals and habitats as you interact with a National Aviary educator. Offerings for classes include:
Amazing Adaptations
Birds are special and specialized. Students discover the unique characteristics, and "meet" species with the most amazing feet, feathers and beaks!
Birds and Conservation
Explore the impacts humans and environmental factors have on the decline of various species, and discover how the conservation efforts of zoos, scientists, and every day community members have led once-endangered species to make a comeback.
Habitats
From the frigid arctic to tropical rainforests, birds can be found in nearly every habitat on Earth! Learn what an animal needs to survive and how birds thrive in the most extreme ecosystems.
Penguins are Cool
Students discover all 18 species of penguin through a PowerPoint journey across the globe, and learn how these unique, flightless birds survive in their habitats.
Rainforest
Discover rainforests through the eyes of its birds. Home to nearly half of the world's plant and animal species, students examine how rainforests support ecological balance as well as global economies, and why it is important for us to conserve this valuable natural resource.
More classes are available and coming soon!
To register for CyBIRD Learning classes or to learn more, fill out our Education Inquiry Form or contact us at education.programs@aviary.org.
---
Aviary After School
Parents: this unique, semester-long virtual learning program allows young nature lovers to learn about the wonderful world of birds while making supervised personal connections with other kids online! This includes:
Hands-on STEAM activities kids of varying ages can enjoy
User-friendly virtual learning
Topics ranging from bird facts to conservation opportunities
Great supplement to a kid's school day
Register for this 11-week program as a series today.
6-8 Age Group Wednesday Dates: 9/30, 10/7, 10/14, 10/21, 10/28, 11/4, 11/11, 11/18, (Thanksgiving Break), 12/2, 12/9, 12/16 from 4 PM EST – 5 PM EST via ZOOM
9-12 Age Group Thursday Dates: 10/1, 10/8, 10/15, 10/22, 10/29, 11/5, 11/12, 11/19, (Thanksgiving Break), 12/3, 12/10, 12/17 from 4 PM EST – 5 PM EST via ZOOM
To learn more about Aviary After School, use our Education Inquiry Form or contact us at education.programs@aviary.org.
Pricing:
Registration Fee: $199 per household
Optional Craft Material Packet: $35 per person + shipping fee
Pricing is per household; please enroll in the age group which most closely reflects the participant ages in your household!
---

Teen Conservation Leadership Program
Today's teenagers are poised to become the future of global conservation. Through this unique co-op program series, environmentally aware teens ages 13-18 can explore the world of conservation with National Aviary experts and their peers. Through the virtual Teen Conservation Leadership program, teens will:
Have open discussions about global conservation issues
Share their unique perspectives through the design and presentation of an advocacy plan proposal
Think creatively and seek mentorship from National Aviary staff
Collaborate with other like-minded teens
Register for this 4-part online program series today. Saturday Dates: 9/26, 10/24, 11/21, 12/12 from 11 AM EST to 1 PM EST via Zoom
To learn more about the Teen Conservation Leadership program, use our Education Inquiry Form or contact us at education.programs@aviary.org.
Pricing:
Registration Fee: $175 per person; includes all two hour monthly sessions
---
Reading with Red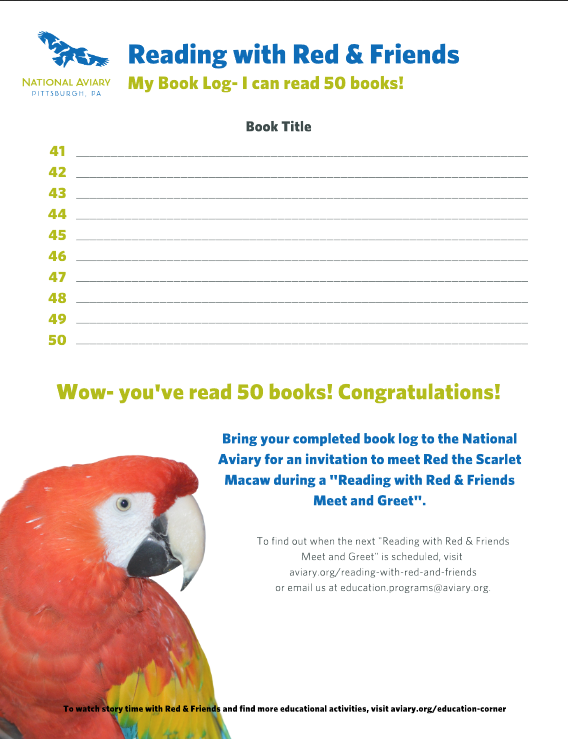 Reading with Red was a Spring and Summer 2020 storytelling program featuring Red, the Scarlet Macaw. Check out videos of our experts reading in different habitats below!
Watch Past Reading with Red Stories Here
---
Thank you to our sponsor: