Superheroes of the Sky Launches at the National Aviary, Offering a Summer Full of Avian Adventures
Superheroes of the Sky Launches at the National Aviary, Offering a Summer Full of Avian Adventures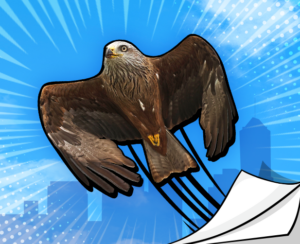 The new summer season highlights the superpower-like adaptations of birds through exciting daily programs, new interactive play spaces, comic book-inspired décor and photo ops, and more
(May 24, 2023) Pittsburgh, PENN. – It's a bird! It's a plane!… It's the National Aviary's new summer season, Superheroes of the Sky presented by Breeze Airways! Travel through vibrant habitats and explore the incredible superpower adaptations of birds from around the world through exciting daily activities like interactive talks and feedings, many included with admission. Experience engaging play spaces throughout the National Aviary, designed for little learners to use their powers of creativity and imagination. Add on experiences like the return of the live rooftop theater show SkyDeck, Presented by the Pittsburgh International Airport and the new immersive bird show, Habitat Heroes Presented by AAA Travel, round-out an action-packed day at the National Aviary!
"Birds have remarkable adaptations that allow them to thrive in the most extreme environments, from arid deserts to frozen tundra. These adaptations are birds' superpowers, and they make them heroes for the roles they play in their habitats," says Cathy Schlott, Director of Animal Programs and Experiences for the National Aviary. "Superheroes of the Sky celebrates all things that make birds unique and helps guests unlock the power to be heroes for the environment themselves."
During SkyDeck, the National Aviary's live rooftop theater show presented by the Pittsburgh International Airport, amazing birds of prey fly freely above guests. Lightning-fast Lanner Falcons swoop overhead, demonstrating their agility and impressive speed, while sleek Black Kites soar through the sky. Hooded Vultures, a Critically Endangered species found in Africa, take flight from the rooftop, gliding on air currents as they circle over Allegheny Commons Park. During SkyDeck, National Aviary experts share the important role each species plays in the ecosystem, ranging from controlling pest populations and preventing the spread of diseases.
Habitat Heroes Presented by AAA Travel, an immersive bird show set to eye-catching video and energetic music, is a thrilling journey around the world to meet fascinating species and learn about their awesome abilities. As birds like Bald Eagles, Green-winged Macaws, and Eurasian Eagle-Owls fly and perch close by, visitors can see their adaptations up close and discover what steps they can take to become a habitat hero.
Play spaces set up throughout the National Aviary offer engaging experiences for young visitors. They can play pretend and dress up as a real-life superhero, test their superpowers compared to various bird species, like owls. Other fun activities, like a new nest play space for climbing and playing, a sensory table, and the Draw Alive! station enact children's powers of creativity and imagination. Superhero-themed décor and photo ops provide the backdrop for an immersive experience!
Superheroes of the Sky presented by Breeze Airways opens Saturday, May 27 and runs through September 4.
About the National Aviary
Located on Pittsburgh's historic Northside since its founding in 1952, the one and only National Aviary is home to 500 birds representing more than 150 diverse species from around the world, many of them threatened or endangered in the wild. The National Aviary's large walk-through habitats create an intimate, up-close interaction between visitors and free-flying birds, including opportunities to hand-feed and to meet many species rarely found in zoos. Hours of operation are 10:00 a.m. – 5:00 p.m. daily (closed Tuesdays in January and February). For tickets and more information visit aviary.org.