New Seasonal Theme Offers a "Seaside Escape" at the National Aviary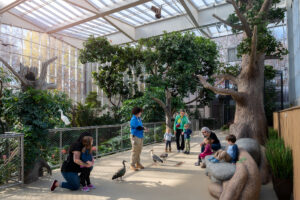 National Aviary guests can take a break from Pittsburgh's dreary winter weather and experience "Seaside Escape." This seasonal theme offers new daily activities, many included with admission, a special new Jr. Toucan Animal Encounter designed for children, beautiful coastal décor and more. With each season at the National Aviary, guests can explore the world of birds and conservation through a different lens with interactive programs, educational signage, fun play spaces, and décor. Seaside Escape introduces guests to the roles they can play in protecting coastal and tropical species and their vital habitats. The new season begins January 4 and runs through May 26.
The fan favorite Wetlands Feeding returns with the reopening of the beautifully updated Wetlands habitat. This activity, included with admission, brings guests closer to colorful and diverse species like Golden-breasted Starlings, Bali Mynas and Hadada Ibises as they fly in for a nutritious meal from a National Aviary expert. The habitat is also home to a vibrant flock of American Flamingos, gorgeous Roseate Spoonbills, and many other species from around the world.
In the Discover the Rainforest daily activity, also included with admission, guests can get an in-depth look at a particular species found in the National Aviary's Tropical Rainforest. Species spotlighted range from the Great Argus Pheasant, which boasts the longest tail feathers of any bird in the world, to the iridescent-hued Nicobar Pigeon, and the plants that support thriving rainforest environments, like cacao and coffee trees.
A new Jr. Toucan Encounter is also debuting with the new season, offering a chance to get even closer to birds. In this Animal Encounter designed with children under six in mind, a National Aviary expert illustrates the awesome adaptations of toucans, including their signature over-sized beaks, through stories and touchable biofacts like feathers. Children can watch as a petite Curl-crested Aracari flies in to land on an expert's hand right in front of them. They can observe one of these beautiful, multi-colored birds up close. Animal Encounters include the cost of admission and can be booked in advance at aviary.org.