National Aviary Celebrates Reopening of Eagle Habitats, Welcomes Kodiak the Steller's Sea Eagle to His Updated Home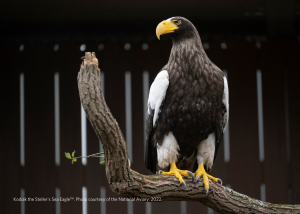 May 20, 2022 –The National Aviary's Steller's Sea Eagle and Bald Eagle habitats reopen to visitors today following extensive renovations. This reopening celebrates the safe homecoming of Kodiak the Steller's Sea Eagle to his updated habitat, and a beautifully renovated home for two rehabilitated Bald Eagles, Flinn and Independence. The habitats, both located in The Charity Randall Foundation Eagle Hall at the National Aviary, were designed with the birds' needs and comfort in mind using state-of-the-art materials and features that encourage their natural behaviors.
Features include new spaces for perching and roosting, and ponds and a new misting system that encourage the birds to bathe and play. In addition, the habitats were renovated to include taller, weather resistant walls, an overhang that offers additional shade and comfort, natural trees and plants, as well as a completely new roof that allows for fresh airflow and sunshine into the spaces. Kodiak, also known as Kody, the Steller's Sea Eagle, and Flinn and Independence (also known as "Indy") the Bald Eagles, are enjoying the many upgrades to their habitats.
"Each of the more than 500 birds at the National Aviary is special to us, and it is a privilege to care for them. We know our visitors care deeply about Kodiak, and about Flinn and Independence, and are eager to see these incredible birds again. We are delighted that these special birds are enjoying their newly renovated homes," says Cathy Schlott, Director of Animal Programs and Experiences at the National Aviary. "As experts in animal behavior, we can read the body language of birds like Kody, Flinn, and Indy and see that they are content and relaxed in their beautiful habitats."
With a striking yellow beak and talons, an intense gaze, and nearly twice the size of his Bald Eagle neighbors, Kodiak is a commanding presence in The Charity Randall Foundation Eagle Hall. Kodiak has served an important role as an ambassador for Steller's Sea Eagles, helping visitors learn about the overfishing and habitat loss affecting this species in its range throughout Russia and Japan. Kodiak's next-door neighbors, Flinn and Independence the Bald Eagles, sustained injuries in the wild that would make it difficult for them to survive on their own. The National Aviary provides a comfortable home for these special birds, who help visitors learn about the remarkable recovery of Bald Eagles after nearly going extinct in the 1970s.
Last fall, Kodiak accidentally got out of his habitat through an opening in the heavy-gauge wire mesh roof of his habitat – a highly unusual and very serious situation. The National Aviary's entire team responded immediately with the full effort of their staff, volunteers, and community supporters to bring Kody home safely, and he was safely recovered in Pine Township on October 3, 2021. Since returning to the National Aviary, Kodiak has been doing well in a habitat behind the scenes while renovations were completed on his permanent habitat. Supply chain disruptions affected the sourcing of the top-of-the-line materials used in the renovations and delayed the completion of the project.
"The reopening of our eagle habitats has been long anticipated by staff and guests alike," says Cheryl Tracy, Executive Director of the National Aviary. "Kody, Flinn, and Indy, like every bird at the National Aviary, are incredibly dear to us, and their care is our priority. We're honored to be able to provide them with a beautiful and comfortable home, and we're thrilled to invite our community back to see and learn about these majestic birds."
The renovations of the eagle habitats were generously supported by Robert and Kim Fanelli.