A Labor of Love Helps a Penguin Return Home
When Dottie the African Penguin fell ill, National Aviary experts noticed it immediately. The normally friendly and sweet penguin was lethargic and weak, unable to stand and experiencing labored breathing.
Fortunately, the National Aviary operates a state-of-the-art Avian Hospital on site, where veterinary teams provide high-level, comprehensive care for birds from Andean Condors to Owl Finches, through every stage of their lives.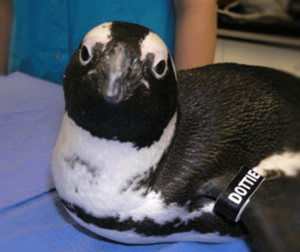 Dottie was immediately admitted to the Avian Hospital's ICU. In the ICU, Dottie received oxygen and emergency treatments along with a battery of tests to determine the source of her symptoms: pneumonia and a mass in her chest.
Facing a difficult diagnosis, the National Aviary assembled a team of experts in veterinary care, penguin behavior, and husbandry to collaborate on her care. Dottie's treatment was intensive and thorough. She received human-grade antibiotics and nebulizers, a treatment pioneered by the Dr. Pilar Fish, the National Aviary's Director of Zoological Advancement and Veterinary Medicine. She received nebulizer treatments every four hours, twice-daily medications, and daily fluids. With intensive nursing, slowly but surely, Dottie regained her strength and made strides towards a recovery.
But, something was missing in Dottie's recovery. Penguins live in colonies and are very social, and often pair with the same partner for years at a time. Dottie's care team knew what she needed to fully recover: companionship.
Cue the arrival of Stanley (named for the Stanley Cup), Dottie's life-long companion and one of the National Aviary's four original African Penguins.
Stan started visiting Dottie in the ICU each day, at first for only an hour at a time. As Dottie gradually regained her strength, Stan's visits got longer. Eventually, Stan moved in to be with Dottie in the ICU full time.
"Stan worked in tandem with the team who visited throughout the day to encourage Dottie to eat. While our penguin experts would feed Dottie, Stan would sit right next to her, vocalizing and grooming her. When Stan ate, Dottie would take a bite," said Dr. Fish.
Dottie's health improved, and soon she was fully recovered and ready to return to Penguin Point. When she and Stanley returned to the colony, they were met with a chorus of brays and calls from their companions. The pair made their way back to their cave and fell back into their old routines, enjoying being back home after a long journey.
Watch their full story below…
Learn more about we help birds like Dottie by visiting Avian Hospital. Learn more about how you can help birds like Dottie by visiting Donate.
Your support can go even further! Thanks to an anonymous donor, donations to our Spring Campaign will be doubled, up to $10,000!
Give Today!