Bring your students to the National Aviary for an unforgettable learning experience. Choose from one of three options: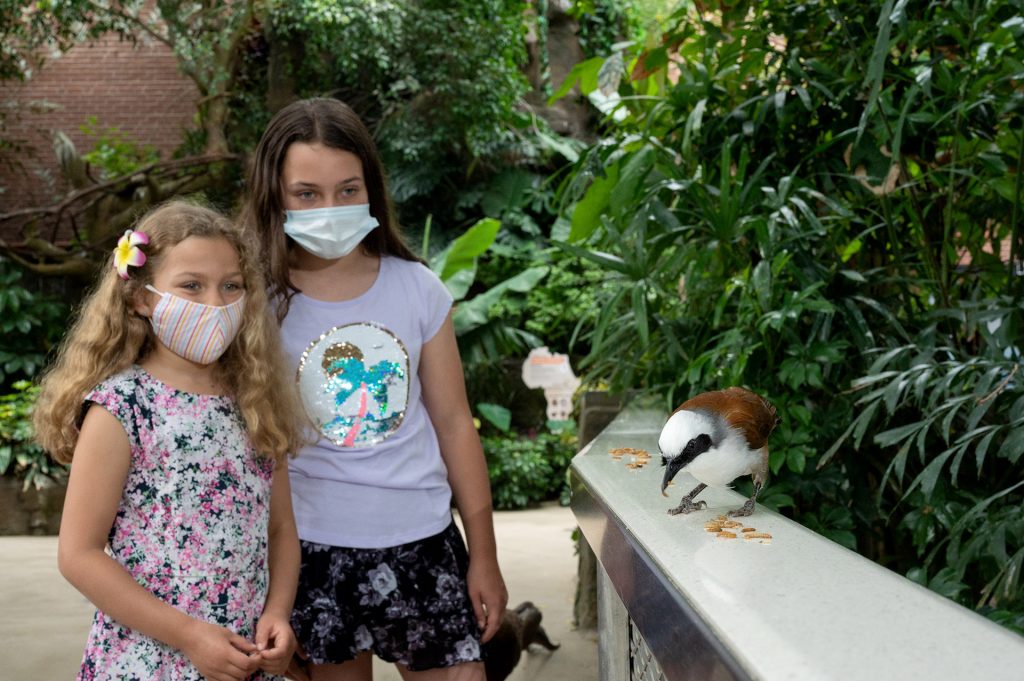 Get Even Closer with a National Aviary Educational Program plus African Adventure Presented by AAA Travel
This package includes:
Pricing: September – February: $14 per person | March – August: $15 per person
Get Closer with a National Aviary Educational Program and Self-Guided Tour
This package includes:
An interactive program led by a National Aviary Educator, complete with an Animal Ambassador visit
During your field trip, your class will also have time to walk through our immersive habitats for a self-guided tour
Pricing: September – February: $12 per person | March – August: $13 per person
Get Close on a Self-Guided Tour
This package includes:
Venturing through lush, engaging habitats while beautiful birds fly around you! Perfect for groups of 15 or more, this self-guided tour allows you to explore the National Aviary at your own pace.
Pricing: $12 per person
You can also add on our immersive bird show, African Adventure Presented by AAA Travel, for just $5 per person!
Additional Information
Group Size and Student-to-Chaperone Ratios
For group visits and field trips to the National Aviary, minimum group size is 15 paying participants. The National Aviary requires 1 adult chaperone for every 5 students for preschool groups, and 1 adult chaperone for every 10 students for all other grades. These chaperones, plus the bus driver, receive complimentary admission. National Aviary memberships are not applicable for educational programs.
Lunch Options
The National Aviary can provide limited lunch spaces for your group, as availability permits, and if lunch space is requested at time of reservation. In addition, hot or cold group lunches can be ordered directly through Atria's Kookaburra Kitchen, the National Aviary's onsite cafe.
Bus Parking
Buses may drop off passengers at the National Aviary's main entrance located on Arch Street with motor coach parking on Arch Street or Western Avenue. Cars and vans may park in the National Aviary lot; the parking fee is $5 per vehicle and subject to availability.
Hours of Operation
The National Aviary is an indoor facility open 10:00 a.m. – 5:00 p.m. daily, except Tuesdays during our seasonal fall and winter hours. We are also closed on Thanksgiving Day, Christmas Eve, and Christmas Day.
Location
On Pittsburgh's historic North Side, a short drive from downtown. Easy access to major interstates including I-376, I-279 and Route 28.
Accessibility
Welcoming to persons with disabilities, in accordance with ADA guidelines. Learn more.
Café
Purchase a catered package to complement your visit, or peruse a variety of snack and meal options at Atria's Kookaburra Café with seating in our glass domed atrium.
Gift Shop
Commemorate your trip with a souvenir. Find unique gift items for any occasion!
Enhanced Safety Protocols
The safety of your students is our top priority. In order to help stop the spread of COVID-19 in our community, please abide by these safety guidelines.
If you have a COVID-19 outbreak in your school within 10 days before or after your scheduled program date, please inform our team as soon as possible.
If a student or adult in your party is exhibiting symptoms of COVID-19, or has been in close contact with someone who has been confirmed positive for COVID-19 in the last 10 days, we ask that they remain home and avoid coming to the National Aviary.
Our Protocols
The National Aviary is routinely cleaned and sanitized for your safety.
Hand sanitizing stations are available throughout the facility.
A MERV 13 ventilation and air filtration system is used throughout our facility to enhance air purification.
Request A Visit Today! Here's How:
Have 3 dates in mind in case your preferred date is unavailable
Use our online form to begin your reservation process. Or contact the National Aviary's Education Groups Coordinator at 412-258-9439. Registration is required at least 3 weeks in advance.
Upon selection of your date, you will be emailed an education group contract.
Your reservation is final only after the National Aviary's receipt of your signed contract and your non-refundable deposit.
Prices subject to change
PLEASE NOTE: The National Aviary is NOT an allergen-free facility, as many of our birds' diets include nuts, seeds, and other potential human allergens.
Not able to visit? You can take part in several of these programs through our CyBIRD Distance Learning!