As an asset of the Allegheny Regional Asset District, the National Aviary is excited to be taking part in RADical Days, 2021! Check out our RADical Offerings:
Free Day: October 10 – SOLD OUT
All of our timed tickets for October 10th are reserved. If you already have your ticket, please observe our safety protocols before your visit. Don't have a ticket? Check out free virtual programming below.
Virtual Programming Schedule
Friday, October 1-Monday, November 1: Enjoy this downloadable Activity Packet, full of owl and sloth fun!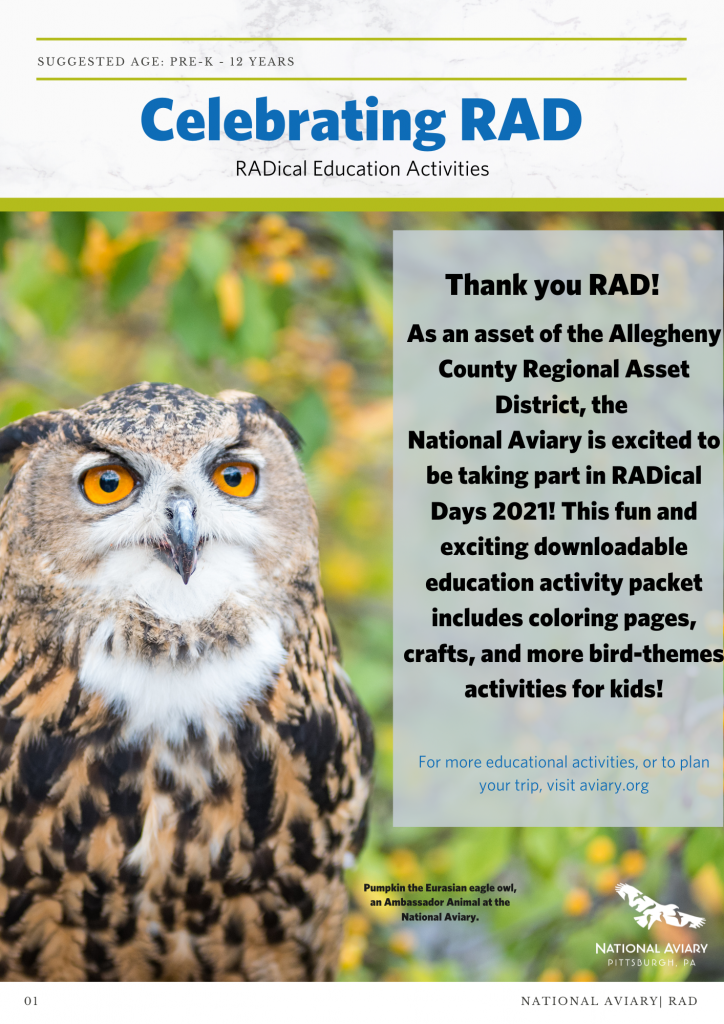 Tuesday, October 12 at 12 pm EST: Experience a Tropical Rainforest feeding at the National Aviary through a Facebook Live! Watch as beautiful birds from around the world swoop in for their lunch with during this expert-led feeding. Check out our Tropical Rainforest feeding Livestream here!
Wednesday, October 13 at 4 pm EST: A session of our Aviary After School program, Amazing Adaptions, will live stream on Facebook. It will remain uploaded for one week. Learn what makes each individual bird so special! Check out our Amazing Adaptations Livestream here!
---
Please note, in accordance with our enhanced safety protocols, we will have timed-entry tickets and limited capacity for this event. You MUST reserve tickets in advance online in order to attend this free event.
For other health and safety policies, please visit our COVID Policies page.