Get nose to beak with a flamingo!
Join our flock of flamingos on the beach of our Wetlands habitat!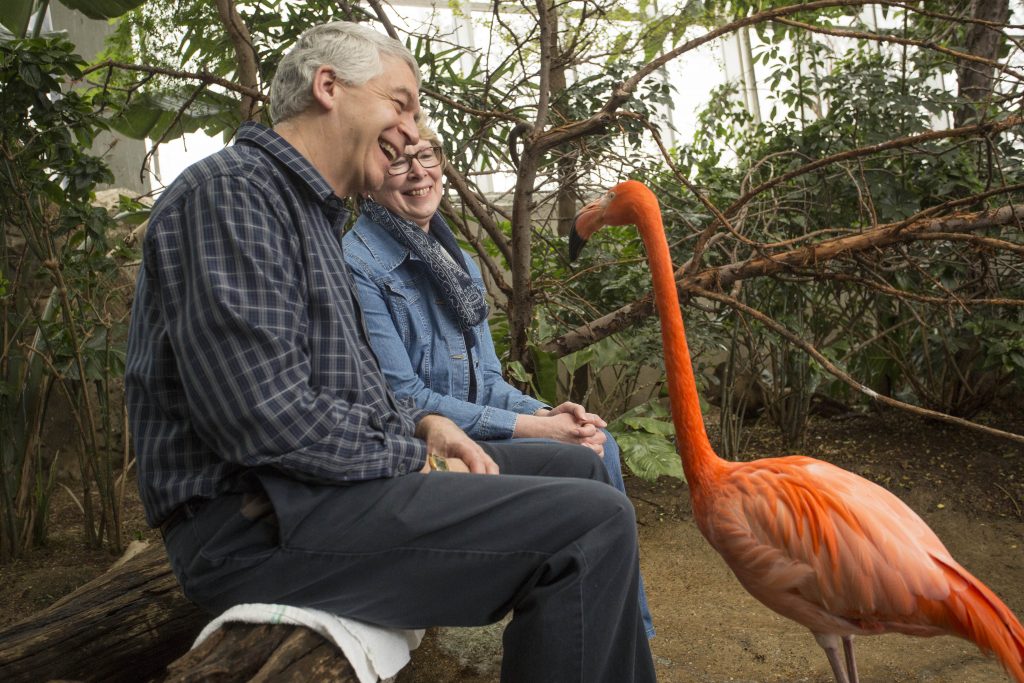 Available to visitors at $74 per person
Member Price: $66.60
Includes General Admission
Ages 10+
This unique opportunity is available daily at 2 p.m.
Immersive Experience
Trek through the lush vegetation of the National Aviary's immersive Wetlands habitat and take a seat on the open beach.
Be greeted by a friendly flamingo! Flamingos are naturally inquisitive birds and may strut right up to you, gentle nudge you, or even preen you.
Offer our flamingos a snack and learn all about their unique method of eating called filter feeding.
Learn all about flamingos in the wild and the important of Wetlands conservation from a National Aviary expert.
Watch as our vibrant flock of flamingos honk in greeting to you and each other, wade in the pond, and dip their curved beaks in to the water to forage for food.
Enjoy the scenic view of the Wetlands birds as they fly, swim, and explore around you.
Enhanced Safety
Each Animal Encounter is limited in size to allow for a personal experience and this is a private encounter limited to only one participate group.
A National Aviary staff member will guide your experience from a minimum of 6 feet per the Aviary's physical distancing protocols.
Staff will wear a mask that covers their nose and mouth, regardless of vaccination status.
Guests are also required to wear a mask that covers their nose and mouth, regardless of vaccination status.
Guests are provided with hand sanitizer before and after any animal interactions.
The National Aviary is performing frequent cleaning and disinfection of surfaces throughout the day.
Book Now
Email info@aviary.org or call 412-258-9445 for more information or with questions.
---
Additional Information
This is a private experience for groups of 2 – 4 guests in the same party.
Participants must be at least 42" tall and 10 years old. Children 15 and under must be accompanied by a paying adult.
Entering the Habitat: Access to the encounter area involves descending a short flight of steps and walking over uneven terrain. Wear sturdy, closed-toed shoes.
You will be seated in the exhibit for the experience. Seats are portable chairs with a weight capacity of 250 lbs.
Cell phones for taking photos independently are permitted; however, the ability to use such devices on the Wetlands beach will be left up to the discretion of the National Aviary staff member overseeing the encounter.
No jewelry, bags, or coats are permitted on the Wetlands beach.
Advance registration guarantees your experience. Same-day registration is based on program availability and cannot be guaranteed. Programs may sell out early for holidays and special weekends.
At the National Aviary, we give our animals the choice to participate in interactive experiences with caring guests, like you! Please provide your contact information when booking your encounter. If our animal ambassador needs a day of rest, we will contact you to reschedule your encounter. The comfort and safety of our animals and our guests is always our top priority. Thank you for understanding!