Lifesaving Care for a Beloved Bird
Anyone who has visited the National Aviary's Wetlands habitat is likely familiar with Joanie, the Wattled Curassow. A large, turkey-like bird, Joanie is a beloved and recognizable fixture in the Wetlands habitat, where she has lived for more than 20 years. She's a social, curious bird with a personality as big as the signature glossy curlicue feathers on her head. She is quick to investigate newcomers to the Wetlands, and she delights visitors with her playful nature.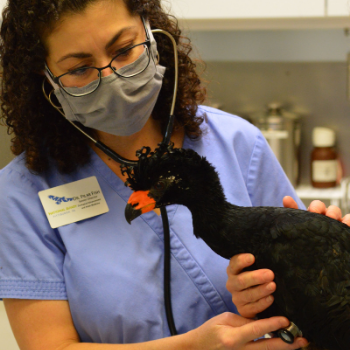 So it was concerning to National Aviary aviculturists when Joanie—a normally active and inquisitive bird—was lethargic. She had even skipped breakfast—highly unusual for her! Joanie was dehydrated, feverish, and clearly not feeling well. Veterinary staff acted quickly. Joanie was brought to the Intensive Care Unit in the National Aviary's on-site Avian Hospital, where Dr. Fish and her team performed comprehensive tests.
Donate Today!
The diagnosis was concerning. Joanie was in kidney failure and had an intestinal condition. Both conditions are common in aging birds but can make a patient very ill when they occur simultaneously. She was started on a course of treatment using a new combination of human-grade medicines customized for her condition.
"We were guarded about Joanie's prognosis, but we felt that with high-level care she could recover. We wanted to give her every chance to get well. Joanie's comprehensive wellness strategy included not only customized medicine and dedicated nursing care to treat her physical conditions; we also cared for her overall well-being, which included meeting her social needs."

Dr. Pilar Fish
Joanie's ICU habitat was outfitted with plants, flowers, leaves, shrubs, branches, and logs to mimic the Wetlands habitat and to bring the comforts of home to this new environment.
Her caregivers, some of whom have known her more than 20 years, are attuned to her personality and her preferences. Joanie, like all Wattled Curassows, loves tropical fruit. Staff took turns preparing a variety of Joanie's favorites: pineapple ice cubes, papaya smoothies, and mango slushies. They hand-fed her, encouraging Joanie to eat and grow stronger.
The combination of human-grade medicines and loving care worked. As she got stronger, glimpses of her personality began shining through. She was returning to her normal, playful self. Soon, she was well enough to return to the Wetlands.
"When Joanie returned to the Wetlands, she immediately fell back into her normal routine, brightening our days with her playful personality. Her most recent wellness checkup showed her prognosis has improved greatly, and we feel she is set up to stay healthy for the long-term," Dr. Fish said.
"All 500 animals who call the National Aviary home receive this level of customized care for their overall wellbeing. Even during a pandemic our staff are going above and beyond to provide extraordinary care for our flock, because every bird deserves the kind of care Joanie received."

Dr. Fish
Donate Today!
The future looks bright for Joanie, who is thriving in her Wetlands home. The innovative approaches Dr. Fish and her team used to treat Joanie will be shared with veterinarians, wildlife centers, and other zoological institutions around the world.
Even in the face of a pandemic, caring for birds remains the National Aviary's top priority. The National Aviary modified its operations in order to welcome back visitors responsibly, with enhanced safety protocols in place aligned with CDC guidelines. The impact of the pandemic has been severe, and restrictions continue to limit earned revenue. Nevertheless, the National Aviary has a plan to ensure animal care continues without compromise, and to ensure the Aviary's long-term viability. Support from caring community members plays an integral role in the National Aviary's plan to continue providing exceptional care for birds like Joanie. Support the National Aviary today by visiting or donating.