Hatching Hope in the New Year
The New Year began in an exciting way at the National Aviary when, on January 3, a tiny, fluffy African Penguin chick made its way into the world. The arrival of the chick is a milestone for first-time parents Buddy and Holly, and a glimmer of hope for the future of this endangered species.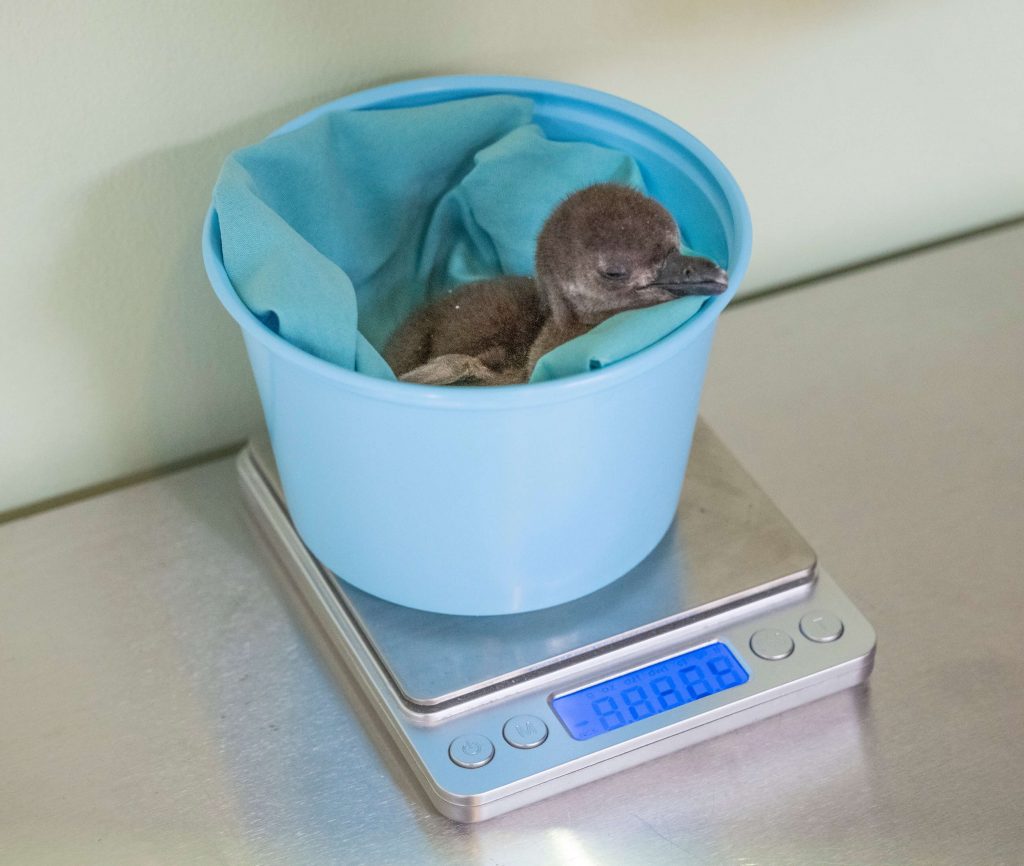 Buddy and Holly, who have been together for about 5 years, are part of the African Penguin colony at Penguin Point in the National Aviary. Tucked away in their nest burrow in Penguin Point, they are now caring for their new little one. African Penguin parents are great partners—they share brooding and feeding duties, taking turns doting on their chick.
The cozy nest burrows on the heated, rocky beach of Penguin Point provide the perfect setting for Buddy and Holly to raise their first chick. The habitat encourages natural behaviors like nesting, swimming, and socializing. The couple eat a hearty diet of sustainable fish, hand-fed to them multiple times a day, which they then feed to their new chick. The first few days of a chick's life are delicate and precious. The uncompromising care from the National Aviary's expert team gives these first time parents and their little one every opportunity to thrive.
Feed the colony for a day for $29!
This chick, the eleventh African Penguin to hatch at the National Aviary, will grow quickly. In just 3 months' time, it will be fully grown: about 18 inches tall and weighing between 6 to 10 pounds! Around that time, it will have replaced its soft, downy feathers with the waterproofed juvenile feathers that enable it to swim. A DNA test will reveal the sex of the chick.
Every hatching at the National Aviary is a cause for celebration, and the arrival of an endangered bird is especially momentous. African Penguins are endangered and have experienced a rapid decline in a short time, leaving approximately 13,000 pairs in the wild in South Africa. Over-fishing, disturbances at their nesting sites, and disasters like oil spills all pose threats to the survival of African Penguins.
The National Aviary is stepping in to create a hopeful future for African Penguins. Through a Species Survival Plan®, the National Aviary collaborates with other Association of Zoos and Aquariums -accredited facilities to enhance conservation and plan for a genetically diverse, demographically stable future for African Penguins in the long-term. The National Aviary is also the leader of the Saving Animals from Extinction (SAFE) program for African Penguins, working with partners around the globe to identify and address conservation challenges.
Even during a pandemic, the National Aviary is committed to providing the uncompromising care that allows these birds to thrive and makes special moments like this little chick's hatching possible. Celebrate with the National Aviary and make a donation today.
Donate Today