Hatching Hope in the New Year
Welcome home, Marge!
With a waddle and a splash, Marge has officially joined the colony at Penguin Point! At nearly five months old, her waterproof juvenile feathers have grown in, and she's been getting acclimated to life in Penguin Point. Thanks to the expert care this adaptable and resilient little penguin has received at the National Aviary, Marge is thriving in her new home.
Visit Marge and the rest of the colony on your next visit to the National Aviary! Reserve tickets today.
Marge is Thriving!
This little African Penguin isn't so little these days! Now with her waterproof feathers grown in, Marge is enjoying swimming lessons in Penguin Point and is getting ready to join the colony full-time soon! This resilient and spirited penguin is thriving with the help of the expert care she receives at the National Aviary and the donors who support that care.
Give Today!
When you Adopt-A-Bird (including Marge!), become a Sustaining Member, or visit the National Aviary, you are supporting care that goes above and beyond and helping the National Aviary in its mission to save birds and protect their habitats.
Read on to learn more about Marge's journey from hatching to swimming!
Introducing Marge!
At almost three months old, the African Penguin chick's juvenile feathers are continuing to grow in, gradually replacing the soft, downy fuzz. These juvenile feathers are important because they provide the waterproofing a penguin needs for a life in the water, and they also enable caregivers to establish if the penguin is a male or a female. Adopt Marge today!
The penguin's caregivers performed a DNA feather test, and the results are in…
Meet Marge! Buddy and Holly's first chick is a girl! Marge was named by generous donor, Board Member, and friend, Rich Caruso, after Rich's mother. Watch the big reveal below!
Two Month Update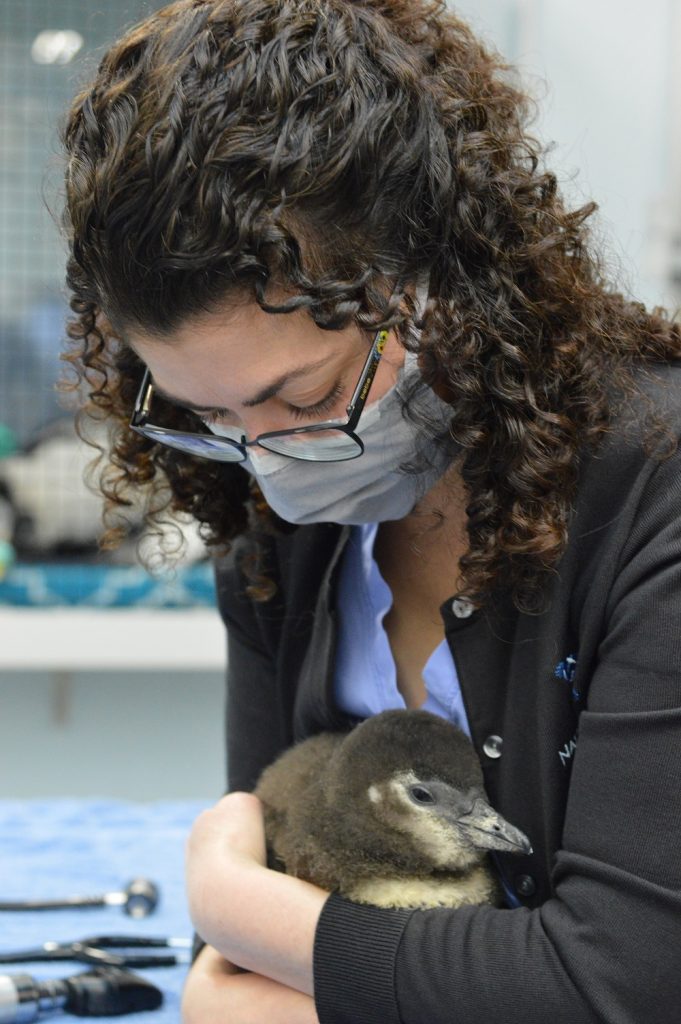 Buddy and Holly's resilient little chick isn't so little anymore! In just a few short weeks, the chick will reach its full adult size. As it molts its soft, downy feathers, waterproof juvenile feathers are replacing them. These juvenile feathers hold the key to determining if this chick is male or female. Soon, a DNA test will provide the answer!
This determined chick has overcome the odds and is thriving. Chickhood is a delicate time when a young bird's needs can change frequently, and the experts at the National Aviary are prepared to meet these needs. African Penguins are naturally social and curious birds, but this little penguin was a bit shy. Aiming to understand the chick's individual needs, staff monitored the chick and carefully evaluated its health.
When the animal care team noticed the chick's breathing was irregular, Dr. Pilar Fish knew exactly how to help the chick feel better and recover from a common respiratory condition. With early detection, customized medicine that included inhaled nebulizer treatments, and expert care, the chick made a full recovery.
Still, the chick seemed cautious and observant. Each bird has its own personality, but staff monitored the chick, and noticed that it was favoring one eye predominantly. Recognizing this as a behavior in animals with vision impairments, the team performed a thorough examination.
They learned that the chick has a developmental condition that caused partial vision in the chick's right eye, while its left eye retains perfect vision. Birds are remarkably adaptable and live full, active lives even with vision conditions. Buddy and Holly's tough little chick is no exception!
Thanks to expert care personalized to meet its needs, the chick is thriving. The chick's habitat is designed with consistency in mind, and the lighting in the habitat has been increased, reducing shadows and helping the chick to see more clearly. And, with positive reinforcement training, this once shy penguin is coming out of its shell and engaging with its environment.
With only 13,000 pairs remaining in the wild and populations in steady decline, African Penguins face serious challenges. Every hatchling represents a promise for a brighter future, and that's why the National Aviary is dedicated to caring for this determined little chick and going above and beyond to meet its needs.
One Month Update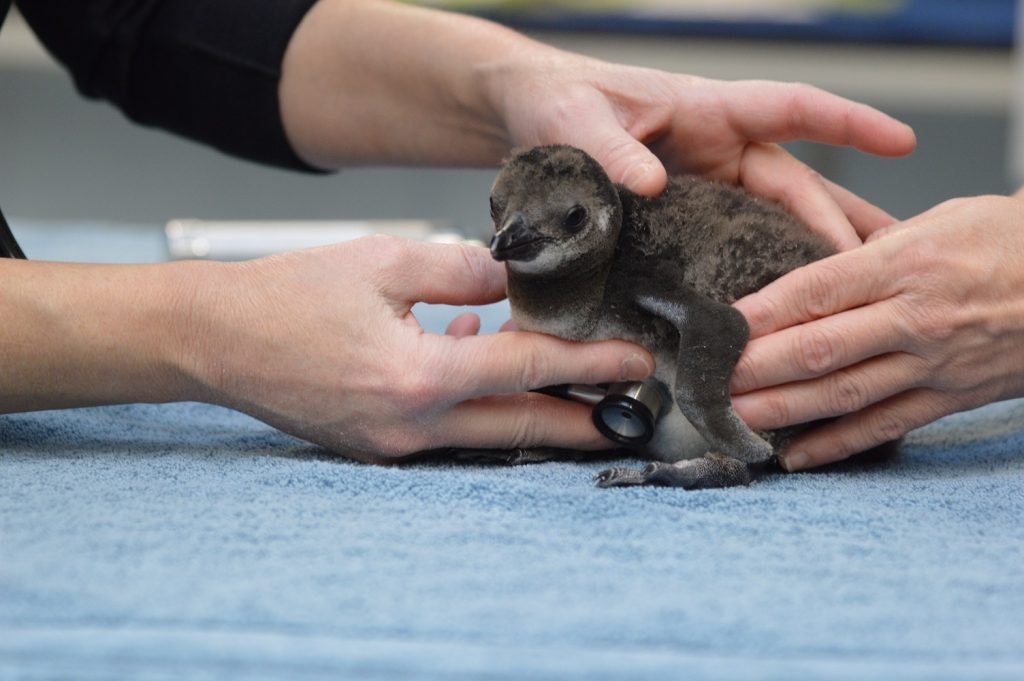 The newest member of the National Aviary's flock is growing and developing well. Penguin chicks grow very quickly. At one month old, this little chick is able to eat whole fish! Penguin chicks at this stage are consuming anywhere from 20 to 30 percent of their body weight daily. In just two months' time, this little one will be fully grown!
Hatching Hope
The New Year began in an exciting way at the National Aviary when, on January 3, a tiny, fluffy African Penguin chick made its way into the world. The arrival of the chick is a milestone for first-time parents Buddy and Holly, the eleventh African Penguin to hatch at the National Aviary, and a glimmer of hope for the future of this endangered species.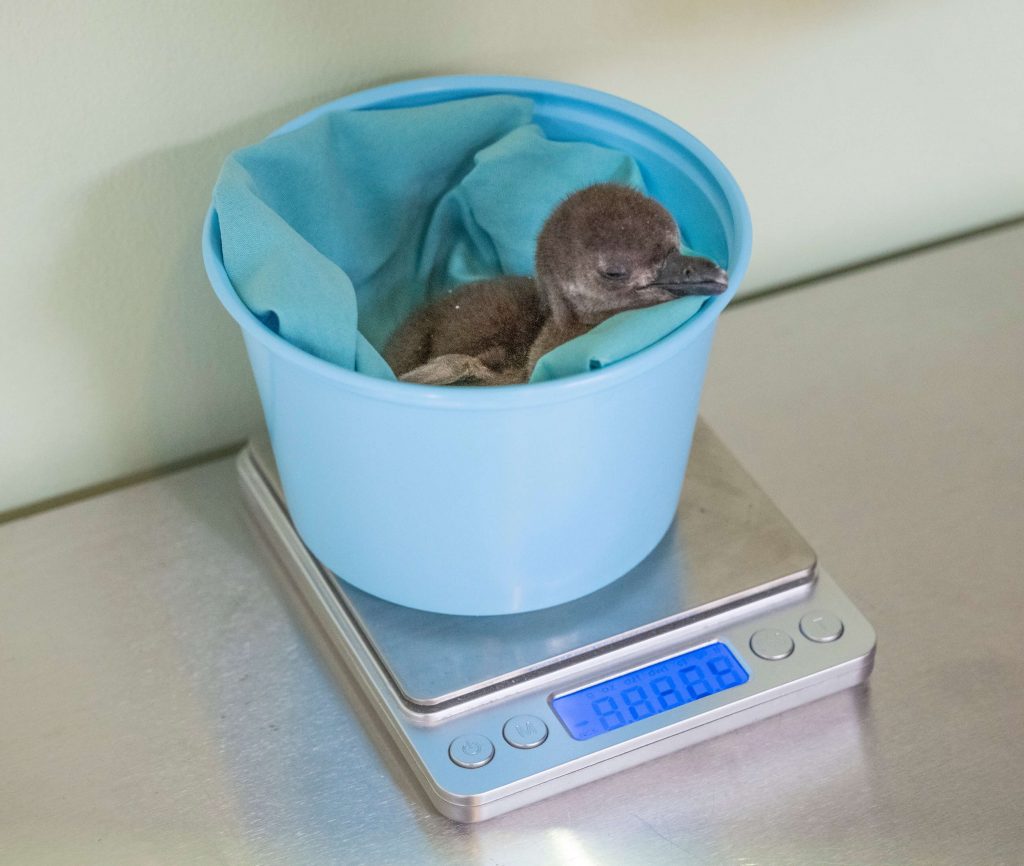 Buddy and Holly, who have been together for about 5 years, are part of the African Penguin colony at Penguin Point in the National Aviary. African Penguin parents are great partners—they share brooding and feeding duties, taking turns doting on their chick.
The cozy nest burrows on the heated, rocky beach of Penguin Point provided the perfect setting for Buddy and Holly to raise their first chick. The habitat encourages natural behaviors like nesting, swimming, and socializing. The first few days of a chick's life are delicate and precious. The uncompromising care from the National Aviary's expert team gave these first-time parents and their little one every opportunity to thrive.
Feed the colony for a day for $29!
Every hatching at the National Aviary is a cause for celebration, and the arrival of an endangered bird is especially momentous. African Penguins are endangered and have experienced a rapid decline. Overfishing, disturbances at their nesting sites, and disasters like oil spills all pose threats to the survival of African Penguins.
The National Aviary is stepping in to create a hopeful future for African Penguins. Through a Species Survival Plan®, the National Aviary collaborates with other Association of Zoos and Aquariums -accredited facilities to enhance conservation and plan for a genetically diverse, demographically stable future for African Penguins in the long-term. The National Aviary is also the leader of the Saving Animals from Extinction (SAFE) program for African Penguins, working with partners around the globe to identify and address conservation challenges.
Even during a pandemic, the National Aviary is committed to providing the uncompromising care that allows these birds to thrive and makes special moments like this little chick's hatching possible. Celebrate with the National Aviary and make a donation today.
Give Today!
---
Support field conservation like this when you become a Virtual Member for just $40 a year!
Become a Virtual Member