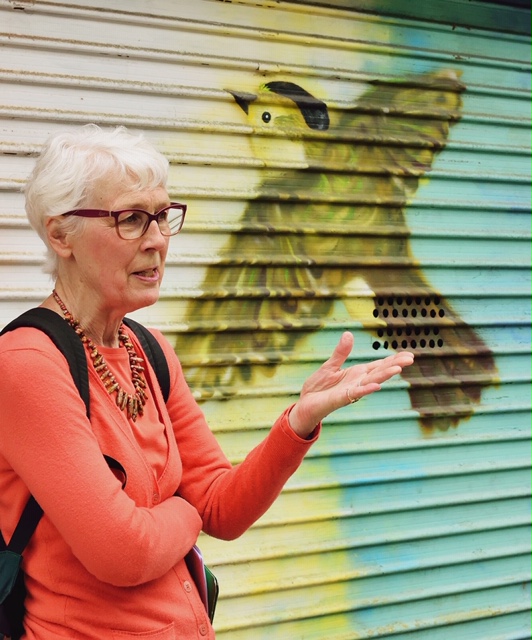 "The Audubon Mural Project: A Virtual Tour" Featuring Licensed NYC Tour Guide, Leigh Hallingby | Thursday, May 6 | 7 pm EST | Members: $13 | Non-Members: $15
The Audubon Bird Mural Project is an impressive effort to create murals of over 300 North American birds. Most of the murals are in the Harlem neighborhoods of Hamilton Heights and Washington Heights, where John James Audubon lived the last ten years of his life. Since all of the birds painted are threatened by climate change, the Project is designed not only to display the birds' beauty, but also to make us aware of the challenges that they face. The artworks range from lovely panels that fill in a former window to spectacular murals covering the entire side of a building. We will see over 40 murals, plus Audubon's grave site, in a 50-minute slide presentation with live commentary and time afterwards for Q&A.
About Leigh Hallingby
Leigh is a licensed New York City tour guide who is passionate about exploring all five NYC boroughs and beyond on foot, mostly through organized walking tours. Leigh is retired from a 36-year career as a non-profit librarian. She loves doing research about the neighborhoods in which she gives tours and sharing the information about them with attendees. Leigh is a feminist, collector, genealogist, and lover of arts, culture, and travel. She lives on the Upper West Side of Manhattan.
About the Virtual Speaker Series
Have you ever wondered why birds migrate? How you deliver health care to an eagle? Or how birds are often considered an artistic muse across multiple mediums? The National Aviary's new Virtual Speaker Series offers something for everyone, whether you're a seasoned birder or a casual bird enthusiast. Hear directly from the experts as they share stories about their work, giving you a sneak peek into their daily lives. Each lecture will feature a different topic, and our experts will answer audience questions submitted during the presentation.