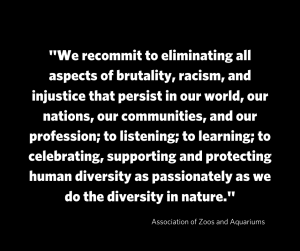 Read the full statement from the Association of Zoos and Aquariums.
The National Aviary's mission is to inspire respect for nature through an appreciation of birds. Inherent in that mission is respect for one another. We will uphold this mission by taking actions to create a more welcoming and inclusive organization. We will amplify the voices of Black birders, nature enthusiasts, and community members. And, we will create opportunities for our community to get close to nature and the healing elements that it offers during difficult times, as we collectively demand a more equitable future.
As an organization grounded in its commitment to defending the diversity of wildlife and inspiring others to do the same, we recognize the need to defend and uplift our Black guests, colleagues, neighbors, and friends and inspire others to join us. Through listening, learning, and supporting one another, we can create a better future. One without racism, violence, and injustice.