Meet our 2021 Volunteer of the Year, Janet Robb!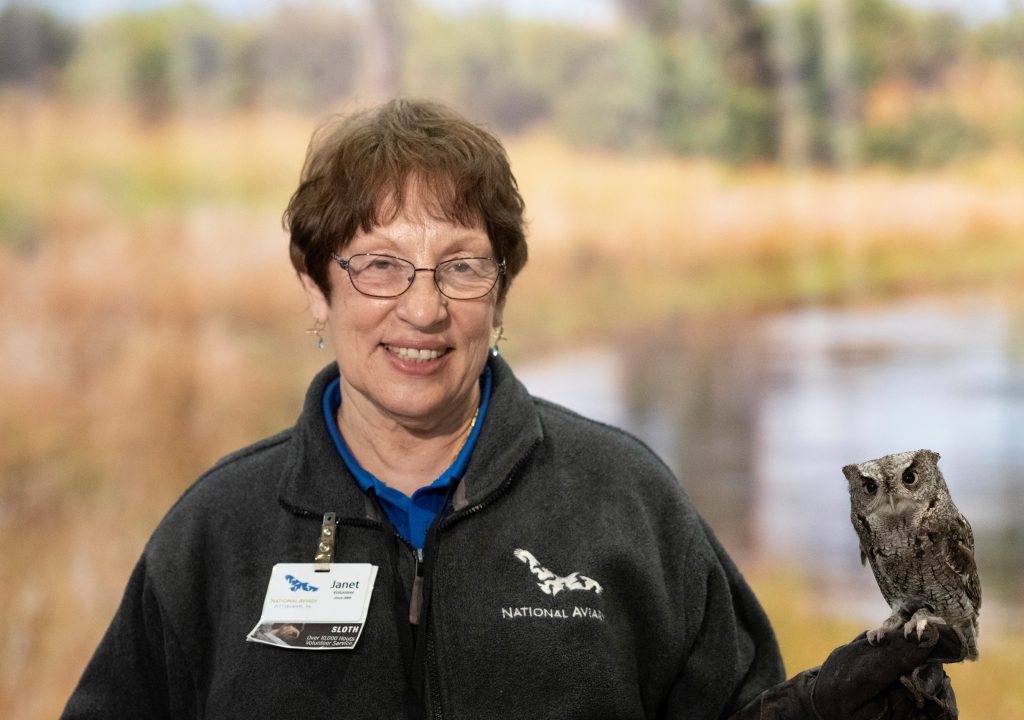 Janet Robb is the National Aviary's Volunteer for the Year for 2021. Since 2009, the Port Vue Borough resident has driven about 45 minutes every Saturday and Sunday to get to the National Aviary, which, she admits is "a bit of a hike, but I must really like it because I keep coming back!"
Over the last 13 years, Janet has found many reasons to make the long drive to the National Aviary. She loves the sense of camaraderie among the volunteers, some of whom have become good friends. Janet sings the praises of the National Aviary's staff: "They are so wonderful. They let volunteers, who start off as strangers, into their workplaces and stand shoulder to shoulder with them. They are so welcoming, understanding, and patient."
Janet began volunteering after she retired from a successful career at McKeesport Area High School where she taught public speaking for 39 years. Under her guidance, a number of her students won state and national debate competitions. She knew she wanted to stay active in her retirement, and she knew she wanted to keep learning. Volunteering at the National Aviary has allowed her to do both.
"I've been very lucky," Janet shares. "I was lucky to teach some of the finest students in the state, and I've been very lucky at the National Aviary, too, to work alongside the staff. I owe them so much!" And, she is lucky, she says, to have found a place where she can continue to learn.
With more than 10,000 volunteer hours under her belt across 13 years of volunteering, Janet has a wealth of knowledge about birds, their habitats, and the National Aviary itself. She gets to share that knowledge with visitors when she provides docent services in the habitats and assists with programs like the African Penguin Feeding. Although she knows the birds well, choosing a favorite would be impossible—"like choosing a favorite child!"
Janet has taken on tasks as varied as the birds she has come to know and love. She works in the commissary, the Aviary's kitchen where customized, nutritious meals are prepared multiple times each day for the more than 500 animals living at the National Aviary. She assists in Animal Encounters, small-group experiences that provide opportunities for visitors to have a one-of-a-kind, personalized experience with an animal like a sloth or an owl. "I thought I'd be handing out brochures or helping people find their way around when I started volunteering," Janet says. "I never dreamed I'd be teaching classes and doing Animal Encounters!"
With all of this experience, Janet has come to know the National Aviary well, and she has some tips for first-time visitors: "Arrive early. Plan to make a day of your visit and take advantage of all of the Aviary's daily activities," many of which are included with admission, like the Tropical Rainforest Feeding. She highly recommends starting a visit with a Sloth Encounter, an immersive add-on experience offering the chance to get close to one of the National Aviary's Linnaeus's Two-toed Sloths and learn about these fascinating animals from an expert.
African Adventure Presented by AAA Travel, the National Aviary's immersive bird show, is a must-see, according to Janet. "I can't possibly oversell it—you have to see the show. What the staff does is mindboggling." During the show, birds fly out over the audience, and waddle and walk just feet away from guests. The show has gorgeous photos, wonderful music, she says, and a powerful message.
During her time at the National Aviary, Janet has witnessed major changes, the renovation of the Tropical Rainforest habitat among them. The 2018 renovation of the Aviary's original structure was transformational, but it also offered a chance to dig into the National Aviary's history and help visitors connect with the Aviary's past. Janet expects the forthcoming renovation of the Wetlands, built in 1969, to be similarly impressive and engaging for the public.
As the National Aviary celebrates its 70th anniversary, Janet mentions that her hope is that the National Aviary continues to grow, change, and stay on a successful path into the future. "I think we're doing that," she says.
The National Aviary is proud to call Janet Robb our 2021 Volunteer of the Year!